TTC UPGRADE PROJECT
Last updated: 18/03/2011 15:35

18/03/2011: latest release of the RF2TTC manual (5.3) - slight modification on a Note about ORBx_COARSE_DELAY

25/06/2009: new RF2TTC firmware version & release of the manual (revision 5.1)

04/06/09: The TTC teams of the experiments visited the RF installations in UX45. pictures here.

03/03/2009: What to do with the BC during the RF synchronization (1ms without RF BC signals before each run): read the study here.

29/09/2008: RF-TTC FAQs

30/07/2008: all the modules and their user manuals are available, as well as network synoptics

07/11/2007: RF2TTC and Clock Fanout boards are available. Rx modules are expected end of November.

16/05/2007: the upgrade modules are in production or in preproduction. The installation campaign of the TTC/BST fibres began. The status is available on the TTC presentations made during the last LEADE meeting.

11/12/2006: Schedules updated (on this page)

11/12/2006: The RF_Tx_D and the RF_Rx_D have been tested by the AB/RF group, and will be used as their standard modules for all the digital transmissions. The system will thus use digital transmitters and receivers instead of analogue ones (see RF_Tx and Rx pages), which will reduce the price of the system

11/12/2006: the RF2TTC board is mostly tested and a second prototype is being produced to be used by the experiments

11/12/2006: TTC upgrade system test report is available

13/12/2006: A set of modules (RF_Tx_D, RF_Rx_D, RF2TTC and TTC Fanout) will be available to the experiments beginning of January

13/12/2006: A new price of this system has been compiled and is available at the end of the 'new system' page.
---
From RD12 project to the new system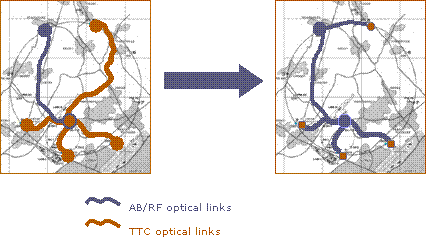 ---
This web site describes the project of an upgrade of the RD12 TTC system, in order to ensure full maintainability, support and matching to the new requirements from the experiments in term of signals.
---
Schedule for migrating from RD12 TTC backbone to the new system: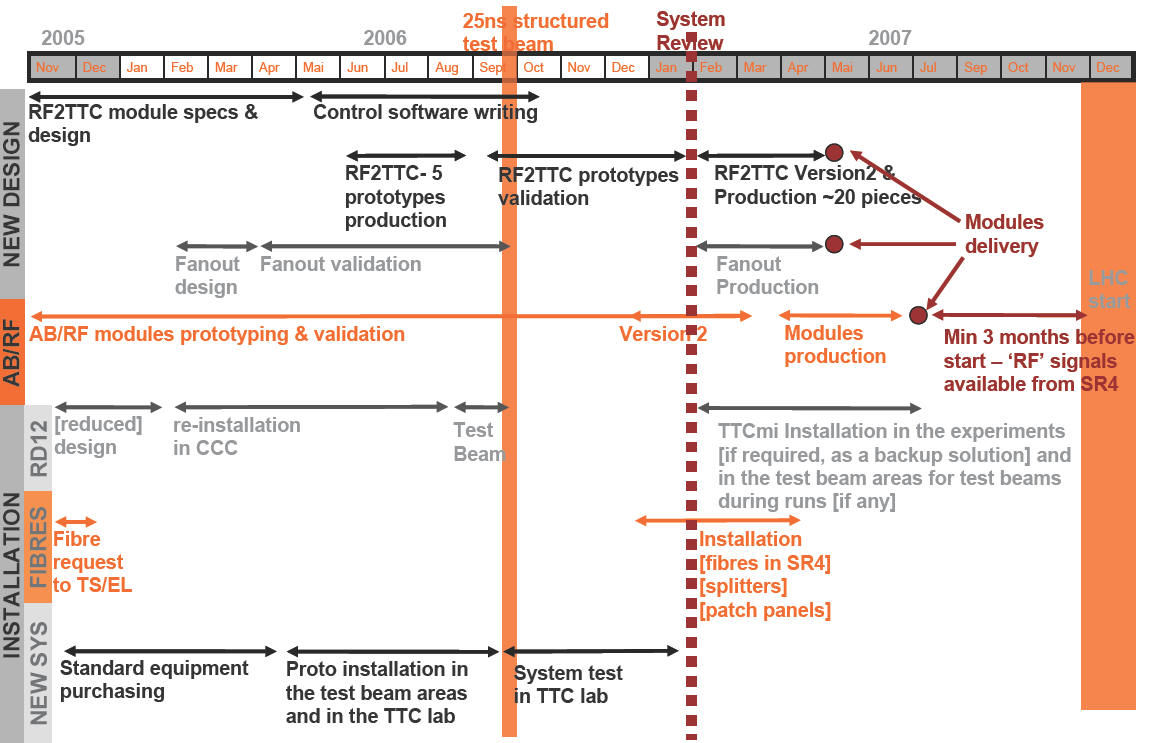 ---
Documentation:
The web page of the main TTC system is available at: http://ttc.web.cern.ch/TTC/intro.html
A first version of the document describing this project is available at: https://edms.cern.ch/document/628545/
---
---
Last Updated by Sophie BARON on 18/03/2011 15:35