NEW SYSTEM
Last updated: 29/09/2008 11:07

29/09/2008: RF-TTC FAQs

30/07/2008: the synoptics of all the fibres connected for the TTC are available below

16/05/2007: All the modules are in production or in preproduction. RF2TTC will be distributed in June, RF_Rx and Tx will be available in Septembre.

16/05/2007: The installation campaign of the TTC/BST fibres began. The status is available on the TTC presentations made during the last LEADE meeting.

11/12/2006: The RF_Tx_D and the RF_Rx_D have been tested by the AB/RF group, and will be used as their standard modules for all the digital transmissions. The system will thus use digital transmitters and receivers instead of analogue ones (see RF_Tx and Rx pages), which will reduce the price of the system

11/12/2006: the RF2TTC board is mostly tested and a second prototype is being produced to be used by the experiments

11/12/2006: TTC upgrade system test report is available

13/12/2006: A set of modules (RF_Tx_D, RF_Rx_D, RF2TTC and TTC Fanout) will be available to the experiments beginning of January

13/12/2006: A new price of this system has been compiled and is available at the end of this page.
---
<![if !vml]>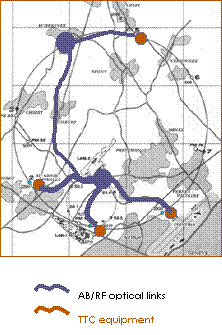 <![endif]>
The new system will be composed of a backbone managed by the AB/RF group, and a receiver crate installed in the experiments, converting the RF timing signals into TTC compliant Bunch Clocks and Orbits.
---
RF timing signals:
Three Bunch Clock signals (one for each ring plus one reference clock) will be transmitted, as well as one orbit per ring.
| | | |
| --- | --- | --- |
| | Protons | Lead ions |
| 450GeV equivalent | 400.788790 MHz | 400.784139 MHz |
| 7 TeV equivalent | 400.789658 MHz | 400.789639 MHz |
Guarantied period: the period when the Bunch Clock and orbit signals are guarantied to be stable by the AB/RF group is between the first injection to the end of the physics mode of the LHC
---
AB/RF equipment:
SR4 installation: optical transmitters for the CCC and for CMS
Buried optical links between SR4 and CCC, between SR4 and SR5, and between the CCC and SR2, SR1, SR8 and the TTClab
Equipment in the experiments: optical receivers
---
TTC equipment in the experiments:
The equipment installed in the experiment is basically a receiver crate, composed of:
---
Support and maintenance:
Monitoring of the AB/RF receiver status
Procedure before calling the AB/RF piquet
---
Fibre installation - all the fibres are installed since December 2007:
The synoptics of the connections are here:
---
2006 test beam:
Plan for September test beam
---
Global Documentation:
---
Updated price of the system per experiment:
Previous scheme (with Analogue Tx and Rx):

Note: this scheme does not include, neither the spares for Tx and Rx, nor the cost of the fibre patching.
Note: table extracted from the agreement on TTC upgrade signed on November 2005.
New scheme (with Digital Tx and Rx):
| | | | |
| --- | --- | --- | --- |
| | Unit price | Price | Comments |
| 2Tx modules (=6 lasers) | 3kCHF | 6kCHF | worst scheme considered: the attenuation is too high and we have to implement 2Tx modules per experiment. |
| 2Rx modules + 1 hot spare | 2kCHF | 6kCHF | |
| 2 RF2TTC | 2.5kCHF | 5kCHF | |
| Fibres (patchs, splitters) | 2kCHF | 2kCHF | estimation |
| Spares (20%) | | 4kCHF | |
| Total per experiment | | 23kCHF | Worst case for the transmission (no split), and including 20% for the spares and one hot spare in the experiments |
---

---
Last Updated by Sophie BARON on 29/09/2008 11:07